RFMS CLOUD COMPUTING BENEFITS

Advantages to RFMS Cloud Computing
Experience
DNS has been working with RFMS Inc. to facilitate wide area networking, application hosting, and Cloud Computing solutions for the RFMS suite of applications since 1995. With years of experience and an excellent relationship collaborating with RFMS Inc. we are able to provide our RFMS clients with the highest level of support and performance.

Freedom
We maintain the staff to support your applications, we perform back-ups every evening and store the data off-site at a safe location. The SQL data is routinely and automatically groomed (compressed, re-indexed, etc) to maintain optimum performance. We also perform the RFMS application updates and upgrades on request. All this lets you focus on your business not your computers.


Global Accessibility
Connectivity to our datacenter is available 24x7 by any internet connection; even a dial-up modem connection will yield good performance while accessing the RFMS applications. There are client receivers for MAC, Windows, Android, and I-OS for the most robust connectivity and greatest local printer support; however any device with a web browser running Java can access RFMS via our web gateway.

Instant Information Access
RFMS becomes a real-time multi-location / multi-user system. You will know all your stores inventory levels and sales figures all the time. No waiting for end of month reports to be compiled to see the bottom line. Know where your inventory is, whatís selling, control everything from your office, your home, or while on the road.

Save your Money
Stop buying and upgrading computers! We bear the expense of owning, maintaining and upgrading the servers and central communications equipment. Things like the operating system, pervasive (bítrieve), SQL Server software, and user licenses fees all go away for you. You own only the cheap, disposable workstations (terminals) in your locations. What if the newest RFMS requires faster computers, or a new database engine? No PROBLEM! No expense to you, itís our responsibility! It's all included in our one low monthly fee.

Minimal Communications Costs
All you need is an Internet connection!

Security
Our servers are located in a restricted access environment. Your data is only accessible by you and secured with your individual user names and passwords. Data is also protected against loss due to equipment failure by implementing a very high-speed array of storage devices, and backed up to a secure location every night. Make a data entry error? Weíve got you covered! Your data is archived and can be restored -just in case!

Performance
Having real-time access to your centralized RFMS application and data provides you with better control and up-to-the-minute information on your accounting and back office procedures. This system has proven to provide excellent performance in a very reliable and stable operating environment since 1995. Best of all: It's very economical.

Flexibility
Adding users and locations is as simple as a phone call. Change anytime, as your business requires.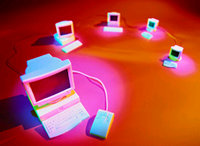 Features:
Centralized Accounting
Banking grade data security

No more:
Server maintenance

Expensive system upgrades

Guessing if the backups ran

Hardware upgrades

Data corruption